Author:

Category:

Date:

Tag:
Istiqlal Mosque stands as the largest mosque in Indonesia and thousands of Jakartan Moslems gathered the mosque for the communal prayer at the morning of 2010 Eid ul-Fitr (Idul Fitri) Day.
The President of Indonesia, Susilo Bambang Yudhoyono, along with the Vice President, Boediono, also attends the prayer. Sadly I couldn't capture a glimpse of them since I ended up in a different part of the moque.
At 6.00 AM, the streets surrounding Istiqlal has already busy. So I parked my car at Gambir Station and walked 5 minutes to get to the mosque. I thought the security might be tight since the President will be there, but I got through with my DSLR camera.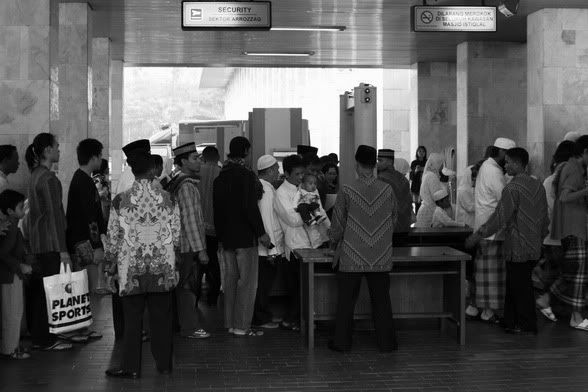 Istiqlal Mosque Security Queue

Security Parameter with Metal Detectors and X-ray Scanners

Passing the security perimeter with security personnels armed with metal detectors and x-ray scanners is easy even though the metal detector is buzzing when I went through. But I worried when I put my camera bag to the x-ray because somebody might take them while I got hold upon metal detector gate. You can't get too relaxed in Jakarta even when you're in the holiest place of all. My sajadah (praying mat) had already gone away before I entered the building.
Despite the hundreds of people that seems to be endlessly entering the Istiqlal Mosque, the place is very spacious as I got to the second floor (I forgot the name of the section, it was the one with a big open air field on the middle)

Waiting for the Eid ul-Fitr Praying to start
I got confused by how the man and the woman are not strictly segregated to specific areas, which is commonly praticed in a mosque. Maybe this is a special event where you can make a prayer along with all your families or friends stands besides you?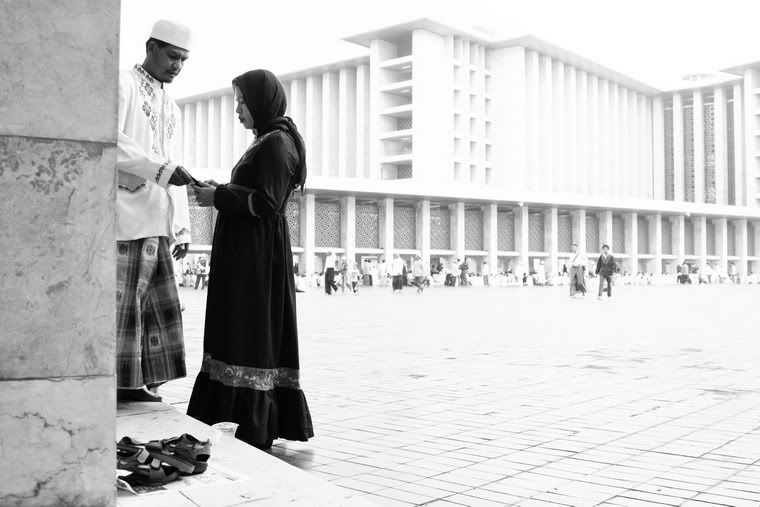 Husband and wife shares the same praying area

After the prayer, people starts to fill up the exit hall. I decided to join in to capture the immense of the crowds. People push you from the back and both of your sides while you walk out slowly to the entrance gate. The mosque personell ocasionally yells to the crowds to watch out for pickpockets. I thought, pickpockets? Here at the Istiqlal Mosque just after a holy prayer? Yeah, right.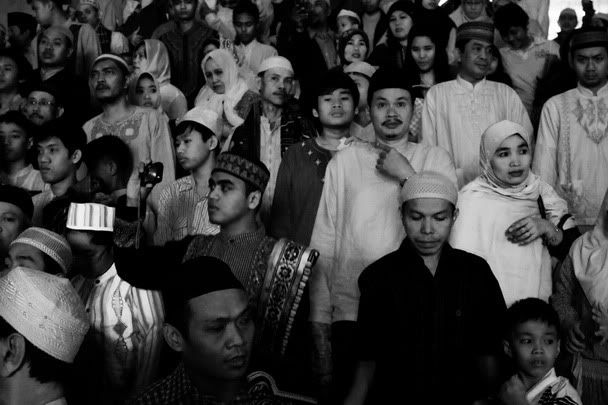 Crowds exiting the Istiqlal Mosque 1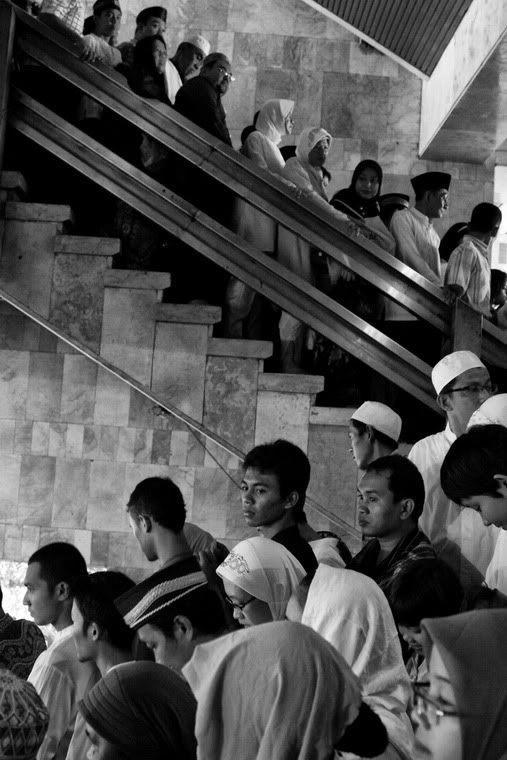 Crowds exiting the Istiqlal Mosque 2

Crowds exiting the Istiqlal Mosque 3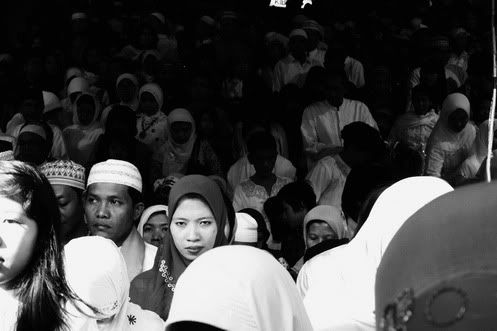 Crowds exiting the Istiqlal Mosque 4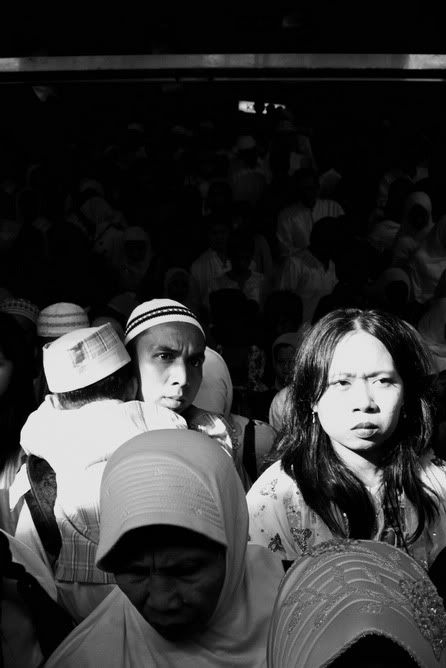 Crowds exiting the Istiqlal Mosque 5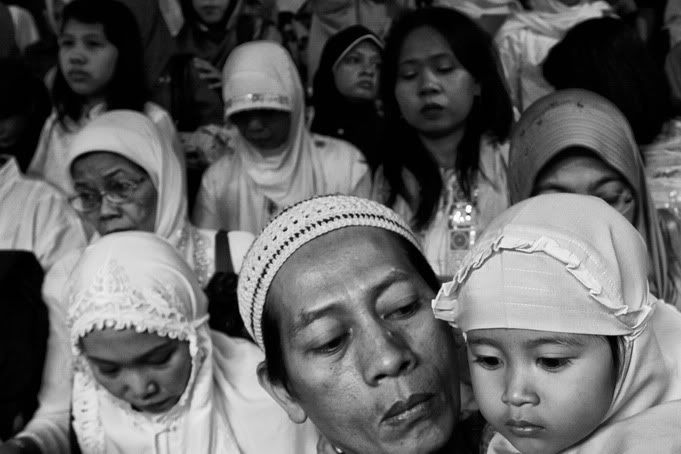 Crowds exiting the Istiqlal Mosque 6

Crowds exiting the Istiqlal Mosque 7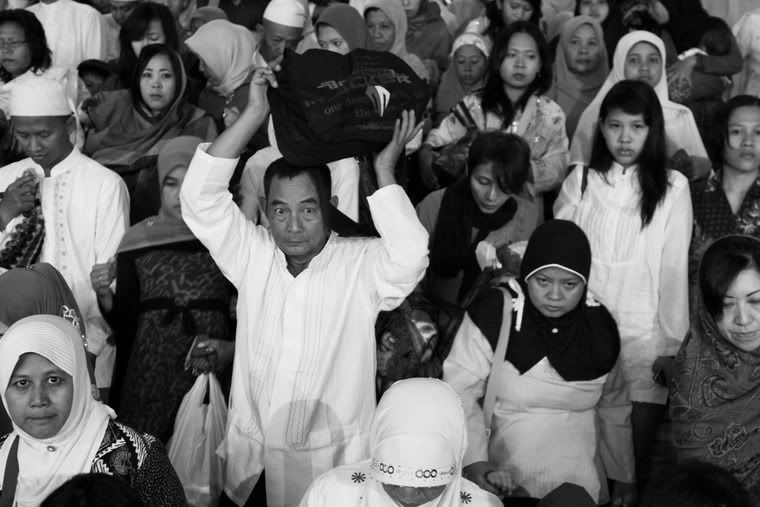 Crowds exiting the Istiqlal Mosque 8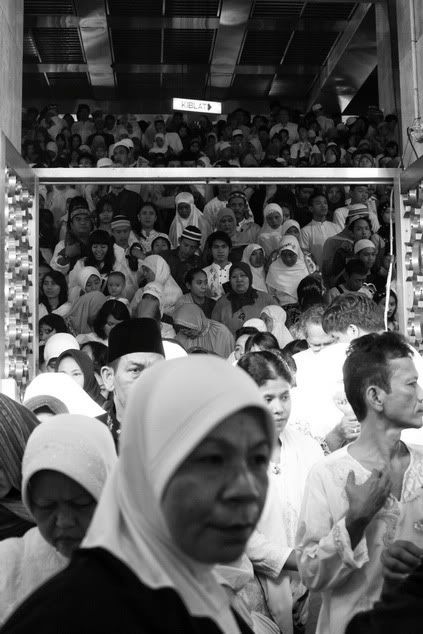 Crowds exiting the Istiqlal Mosque 9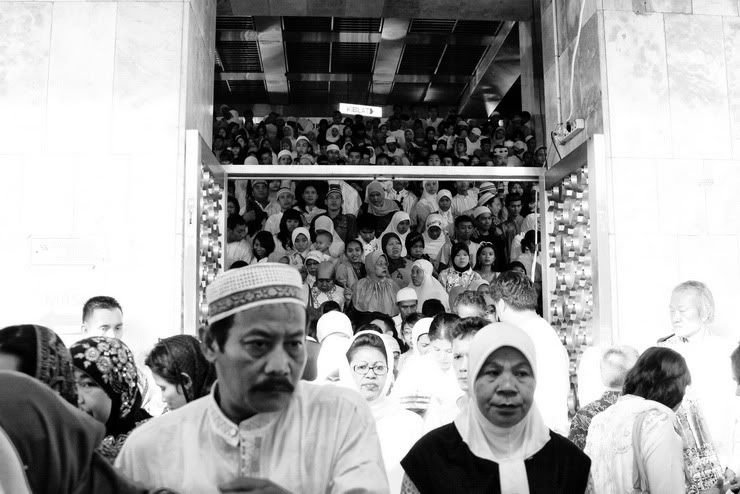 Crowds exiting the Istiqlal Mosque 10
But about ten minutes later, still trapped in the sea of crowds and while busy taking photos, I started to feel that my wallet and cellphone at my front pocket started to jiggling involuntary. As I look down, the person left of me had his praying mat just about my waist, covering his hand that trying to pickpocket my wallet underneath. Fucking crazy.
I hold my pocket and in a state of disbelieve that the warning was true, I just said to the guy, 'mas, yang bener lah', which means, 'dude, get real'. The guy looks really innocent and keep saying, 'What? It's cramped and my hands just got stuck near your legs'. I could yell 'Maling!' (Crook) but I decided not to that because this is a holy sacred day and he should get another chance not to get busted today.
I told my friends about it and they said why I didn't get a picture of him. Well, it's really cramped and we literally rubbing shoulders against each other. My lens is not a macro lens so I couldn't took a shot of his face.
After exiting the Istiqlal Mosque, soon I was confronted by beggars with pity sights and sounds. Stupidly, after loosing my valuable praying mat and almost became a victim of pickpocket, I felt very blessed that I can enjoy photography while many other peoples got stressed that they don't have nothing to eat for lunch.

Beggars waiting for mercy at the yard of Istiqlal Mosque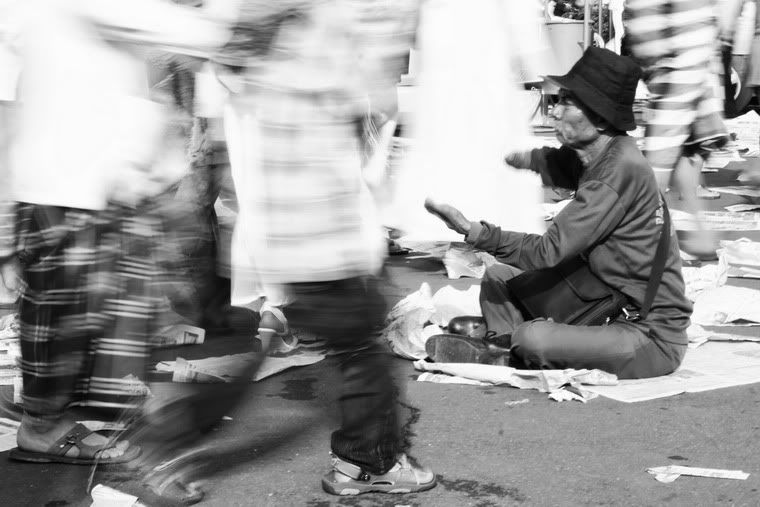 Beggars waiting for mercy at the yard of Istiqlal Mosque 2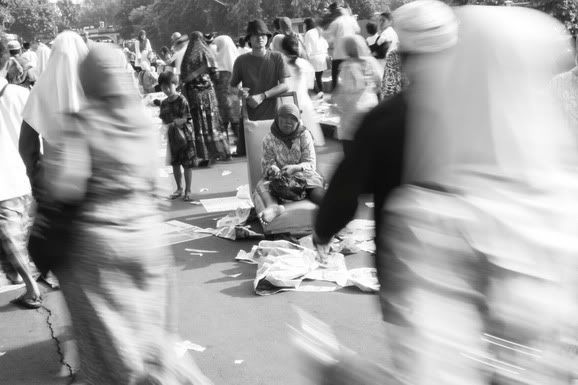 Crowds exiting the Istiqlal Mosque 1
I have to point out, that, in this next photo, she is not exactly a beggar. She collects used newspapers that people left after the praying. Most people use newspaper as a cover for their praying mat so it souldn't get dirty. Most common shitty Jakartans doesn't care about cleanliness so they just left it there leaving thousands of trash unattended. This is where this woman uses the opportunity to gather those senseless trash by collecting them where she could trade them later for money, and it goes by the kilos.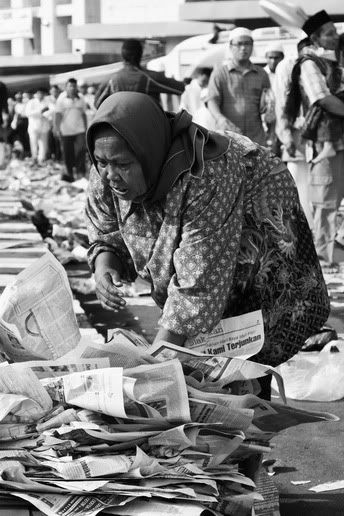 Collecting all the newspapers that being left after the prayer

At the entrance of Istiqlal Mosque, I saw people gathered and taking photos at the entrance signs. Making this memorable moment recorded in a print and digital photos. Anothey type of people who can make an opportunity out of this is those who wear vest jacket with 'FOTO LANGSUNG JADI' (Instant photo) wordings in the back. They usually bring instant cameras and offers people who don't bring cameras to take photo with them for a small fortune.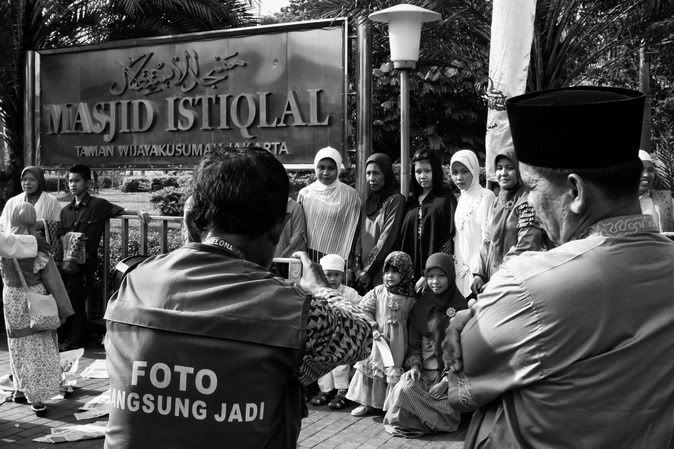 Taking memorable moments in front of the signs 1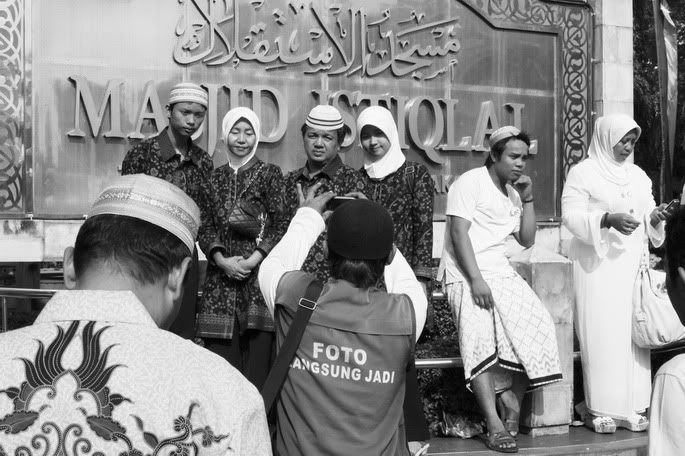 Taking memorable moments in front of the signs 2

If you are a foreigner who want to take part of this yearly event next year, I suggest just join in. Go there with proper clothing; long pants and shirt. A plus if you wear Moslem dress. People don't mind and a matter of fact, if I see one or more bule going there to actually pray, than I would feel proud that a foriegner had converted to Islam and join the communal prayer among the commoners. I'm sure other locals would felt that way. But if you go and don't actually pray there, then it's fine too. If you actually read my writings above then you know you should prepare against pickpockets and many other things too.
photos & words: mantosz