Author:

Category:

Date:

Tag:
Hearing Renai Circulation (恋愛サーキュレーション) for the first time from Danny Choo makes me watch Bakemonogatari (化物語) anime just because it is so catchy. Read on to hear, watch, and download Renai Circulation song and movie.
Renai Circulation is composed by meg rock (She goes with other names such as GUMI, Megumi Hinata, Meg Hinata), the same person who wrote another catchy song, 'Catch Me Catch Me', a soundtrack from Card Captor Sakura anime.
The song is made specifically to represent the anime's character, Nadeko Sengoku, and became the opening for the second part of episode where Sengoku's role being spotlighted. The person who sings the song is also the same person who voiced Sengoku's character, Kana Hanazawa.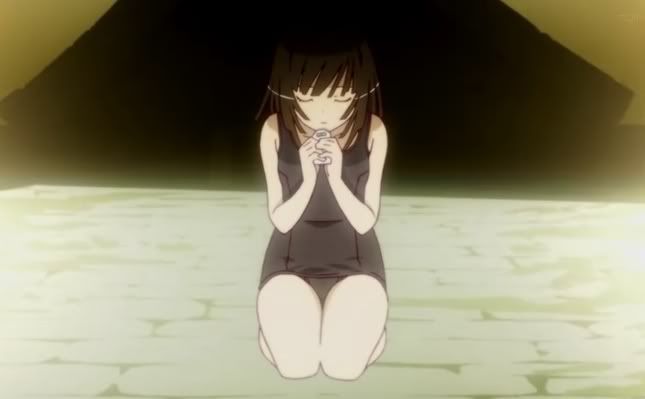 Nadeko Sengoku in School Mizuki
After seeing the anime, I think this song perfectly personificate Nadeko Sengoku's shyness but strong character. This can be seen from how her reactions to Araragi and how she hides the pain from the snake curse constrictions.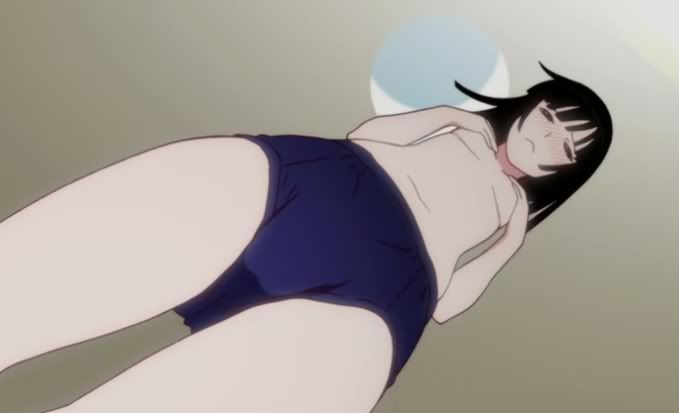 Nadeko Sengoku in Bloomer
She is a middle schooler by the way. If you haven't watch the anime, you might find this anime inappropriate because it sometimes gives frontal and suggestive images toward lolicon scenes.
This song is my favorite between the other soundtracks from Bakemonogatari despite it was being aired only once. Why? I always like Shibuya Kei type of music, though Renai Circulation isn't categorized as one, but it have the same elements in it.
Childish, innocent lolita style of pop vocal singing through light lyrics that hints a little girl's simple depiction towards the man she likes. It couldn't be called love, because she still yet couldn't define what is the affection means to her in explicit allegory.
Borrowing words from the lyrics, 'fuwa fuwa' may be the best term that could describe what her feelings like. Imagine just seeing the face of the one you admire so much makes your body so light and you ended up hopping around above the clouds. If that's hard, than just try to remember your sweetheart crush back from your middle school days.
All of this perhaps best to be constituted with 2 simple words: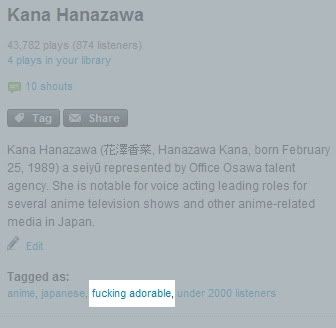 Anyways, you can listen to Renai Circulation online:
Or you could download the high quality full song here:
http://rapidshare.com/files/388561334/Bakemonogatari_-_Renai_Circulation_-_01_-_Renai_Circulation.mp3
In case you want to sing-a-long to it, here is the high quality instrumental only version:
http://rapidshare.com/files/388571302/Bakemonogatari_-_Renai_Circulation_-_02_-_Renai_Circulation__Instrumental_.mp3

You could find the romanized lyrics along with the kanji version and English translation:

http://gendou.com/amusic/lyrics.php?id=9911&show=0
Video of the 4th opening scene of Bakemonogatari:
*UPDATE*
This is the blu-ray version without credit rolls and also without her trademark hat!
A NicoNico Douga 8 bit remix:
You might be tempted to make this your cellphone's ringtone, here is the sound file (mp3) of that remix:
http://rapidshare.com/files/388747289/Ren-ai_Circulation__Famicon_Sound_Remix_.mp3
People are also dancing to the tune!
Hell, even Giant goes for it!
Disclaimer: All the material contents on this article are taken from the internet and not hosted on my server.