The Sony Reader PRS-600 felt nicely in your hands and the eyes immediately adjusted to comfort on reading what the machine displayed because the brightness of the screen is not as as bright as LCD on your cellphone or computer. The dimension of the screen also measures as those soft cover novel books. In summary, just like paper.
It is quite funny about this Sony Reader because it's not avai in Indonesia. Not one store sells them even the Sony store itself. Quite possibly that Indonesian don't read that much books so the retailers not even bother to have them in stock. You won't buy a 10$ book then what's a 300$ electronic reader will have use for you.
You can adjust the size of the text and if it is a picture or PDF file, you can zoom in and out. I found it's troublesome though to read in darkness because you can't adjust the brightness.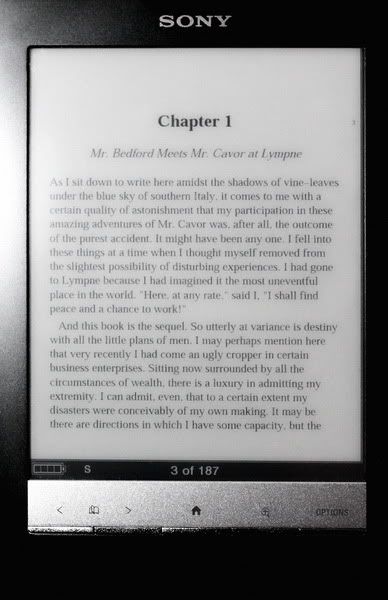 Sony Reader PRS-600 Screen

This machine comes off with two slots of external memory cards; a SD/MMC and Sony Memory Stick Duo. It also have an internal memory of 512MB which only around 300MB available for the user.

With its monochrome screen, it is intended to read text-only books. It could display pictures but in black and white. So if you have a lot of magazine downloads on PDF file, expect to read the color blind. Personally, being a B/W photography fan, the rendition of the black and white pictures are awesome and beautifully produced.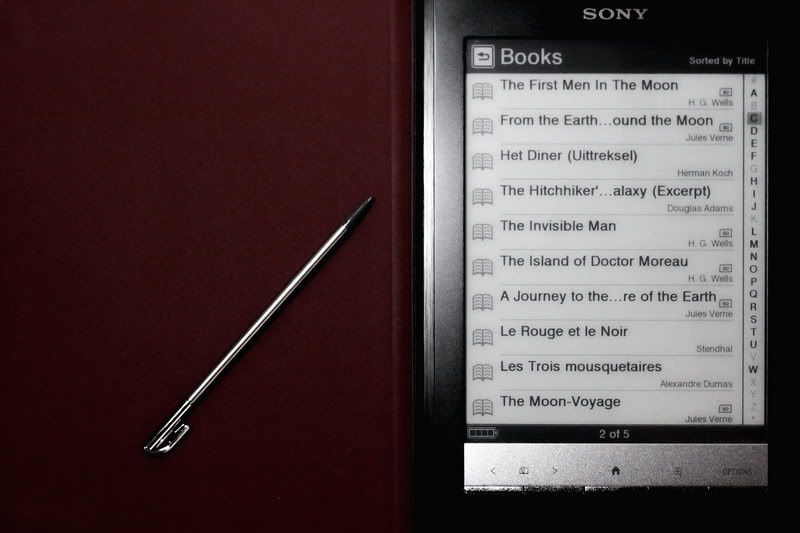 Sony Reader PRS-600 with Stylus
This has another apps that might be useful: mp3 player (it came with a headphone jack) and notes (which you can scribble with the provided stylus).

I won't go with the technical details for it since wikipedia and the Sony website has provided it in the first place. But as a user, I found it pleasing not to carry thick books around you all the time :)
Other resources:
Photos & Text: mantosz